Week 15
Finals week.
Thunderbird Animation from Crystal Kingston on Vimeo.
The piece isn't finished, but this will have to do for now! I used Debussy's La Mer for this version, and will be making my own music composition before the week is out.
I plan on fine-tuning it all over the summer, and will upload the final version when it's done.
Learned a lot. Thankfully, school is almost over.
———
Week 13
Have made a little progress!
Tbird Animation Progress from Crystal Kingston on Vimeo.
Who knew it would take this long? Frame-by-frame animation has its rewards, but it can be an incredibly tedious process.
Most of these images were created with pastels, shot with my 7D, adjusted in Photoshop, and compiled in After Effects.
With only two weeks to go til this is due, there's still lots left to finish, including the sound design. I had envisioned making a composition. Well, I had envisioned lots of things, but deadlines got in the way.
School will be over soon! (Jumping for joy.)
Week 6
Had some fun working with clay this weekend with my friend Linny, who owns Fired Earth Studios in Hot Springs. She's great at animals!
(Also learned how to embed a video directly into the page without first posting it to Vimeo! Converted it to low resolution so it doesn't look that great, but you get the idea.)
Also worked on the green screen project for the motion class.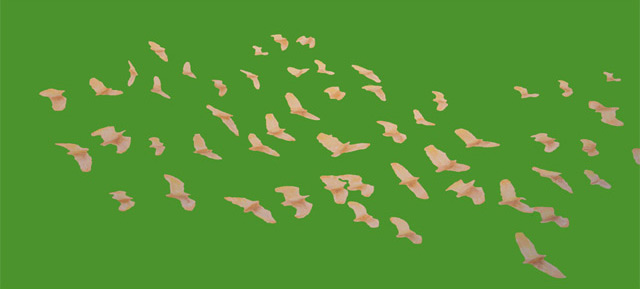 Week 5
Cut up my big storyboard so I could make a flip book. Kind of sorry I did it, but having one was part of the assignment. Sigh…
Thunderbird Flip Book from Crystal Kingston on Vimeo.
Week 4
Tbird middle section—animation update from Crystal Kingston on Vimeo.
Week 3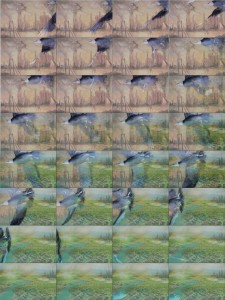 Here's a new storyboard for the middle part of the story, and a sketch of my vision of the future, after the Thunderbird has recreated the landscape.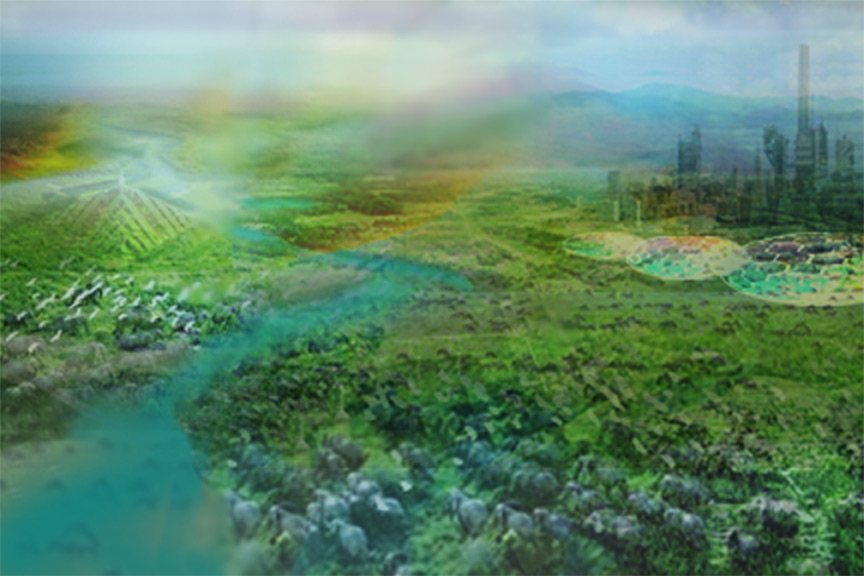 ————
Week 2
thunderbird week2 from Crystal Kingston on Vimeo.
————
Week 1
For my Thunderbird animation project, I made a painting for the opening frames. I'll be zooming in on the water in the center foreground, where the Thunderbird will rise up from.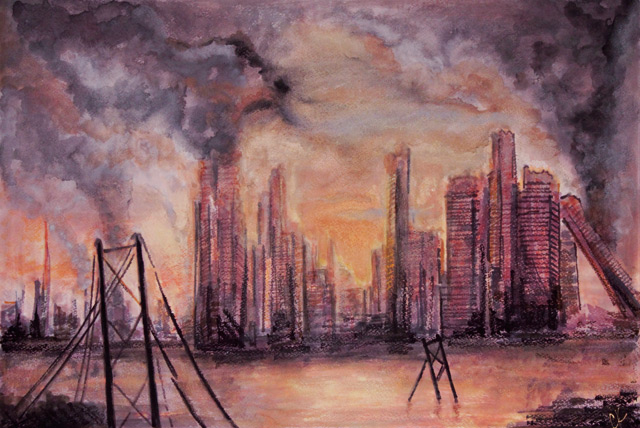 .
Allow me to also introduce you to the work of Akajork, who is the inspiration for my painting. The artist spent a long time making his piece masterful, while mine is a simple sketch. If I'm going to really take this project anywhere, I'll have to re-imagine the skyline myself. I also watched The Matrix again this weekend, in which, you may recall, there's a beautifully rendered apocalyptic cityscape.
Here's a video of me explaining the frames and angles, etc.
Making Thunderbird Animation from Crystal Kingston on Vimeo.